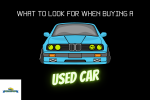 The car buying market is crazy right now, whether you're buying new or used. Buying used can be a great way to get on the road quickly with a lower price tag. However, we all know the costs of unintentionally ending up with a lemon. Without the proper inspection and research beforehand, a car can quickly require repair costs that are more expensive than what it's worth, often making the car unsellable and leaving you without a vehicle AND a car loan to pay off.
In this article, we'll go over what to check before buying a used car and what to avoid.


Vehicle History
Start by checking and asking about the vehicle history. Ask questions like how many owners has it had, has it been in any accidents, does it have any worrisome sounds, how regularly has it been kept up on maintenance, etc. Then run the VIN through CARFAX to see if the car has any accident history, any liens on it, or if there have been any recalls on that model.
Inspect For Rust Or Pain Damage
Small chips in the paint or rust spots aren't necessarily a big deal, but large patches of rust is a deal breaker. It can signify bigger issues with the car, poor upkeep, and/or expensive repairs down the road.
Inspect The Frame
Continue walking around the vehicle and look for any indicators of frame issues. Check to see if the car is sitting level on the ground and if there is anything hanging from the undercarriage. Look at the bumpers and inside the trunk and hood to see if there is any warping or new bolts that could be signs of a recent accident.
Check Under The Hood
Make sure the engine is turned off and pop open the hood. Check for fluid leaks, cracked hoses and belts, and corrosion. Check the oil and transmission sticks for discoloration (oil should be light brown and transmission fluid should be pink or red).
Mileage
The average car drives about 10,000 - 12,000 miles per year. Divide the number on the odometer by the vehicle's age. A car that has been driven more than the average per year will also have more wear and tear. You can also ask the owner if the vehicle's mileage is primarily highway or city. If it's spent more time on the highway, the vehicle will likely be in better condition.
Inspect The Interior Electrons and Upholstery
Press all the buttons, including turning the radio up full blast. Do the windshield wipers work? Do the air conditioning and heat run well at full blast? Check the seating for tears, stains, and cracked leather. Vehicle upholstery can be very expensive to repair.
Take It For A Test Drive
Now you're ready for the fun part! Buckle up and sit back. This is also the most important part of shopping for a used car. Ideally, plan your route ahead of time to test the car on both the street and the highway. Put the car through the paces to test its maneuverability, acceleration, braking, and suspension. Try parallel parking as well to get a feel for the blind spots.
Take It To The Mechanic For An Inspection
Last but not least, if everything else checks out, it's time to take it to a mechanic. There are SO many issues a vehicle can have that are invisible to the naked eye. Here at Main Street Mechanic, we can quickly determine if the vehicle has any underlying issues or areas that might become an issue down the road. Although it's not a free service, it's very affordable and can save you THOUSANDS - as well as weeks of headaches and stress!
What To Avoid When Buying A Used Car
Before you go shopping, make sure you're pre approved for financing and/or have the cash on hand. You want to walk into any test drive knowing what your budget is. When coming up with a budget, don't just shop based on monthly payments alone. You also want to consider maintenance costs, gas costs, and payment period. It often makes more sense to take on a higher monthly payment and a shorter payment period.
Leasing can be a cheaper way to get yourself into a used car, but not all dealerships offer used car leases and there are often strict conditions. It usually has to be certified pre-owned with mileage under 48,000 miles and the vehicle must be less than four years old. Also keep in mind that you often have to return a leased car at the end of your lease.
Never ever forgo the test drive or the mechanical inspection. It's imperative to test drive a few vehicles before making a purchase decision to protect yourself against buyers remorse and to ensure the car is running properly.
If you are purchasing a used car from a dealership, the salesman will do anything to get you in the door because they know that you'll be way more likely to leave with a vehicle once your at the dealership. Make sure you do all your research and comparisons at home and try negotiating over phone or email. It will also make it easier for you to walk away when the car isn't there, giving you the upper hand in negotiations.
Whether you're buying from a dealership or private owner, and you think you've found the car of your dreams, give Main Street Mechanic a call for a pre-purchase inspection. You can even give us a call or shoot us an email beforehand if you're comparing two vehicles, want to know what vehicles are best for safety/fuel efficiency/longevity, etc. We're always happy to give our professional insights and advice. As always, our goal is to ensure our customers are on the road in a safe, reliable vehicle. Make sure you keep up on your regular maintenance with any vehicle you have to keep repair costs down and car value high. We provide the highest quality service for all vehicles, both foreign and domestic. If you have a question about any service we offer, or if you would like to make an appointment, please don't hesitate to call us at (801) 756-2661 or stop by the shop!