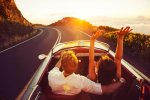 Spring has sprung and joy is in the air! Spring is a little bit different this year than previous years. Not only do we have the annual excitement of weather warming up and the great outdoors opening up again, we also have a winding down of a global pandemic that has significantly slowed down our pace of living for the past year. Though we'll still need to be cautious and follow all CDC guidelines, it won't be long before travel and weekend-adventure options open up again. In this blog post, we'll give you the most important tips for getting your vehicle ready to enjoy all the adventure ahead!


Wash & Wax!

After many winter months of bad weather, it's time to give your car a bath. A thorough wash and wax is one of the most important things you can do after a long winter. Road grime, debris, and salt can build-up on your car, often in some of the most unexpected and unseen places. A deep clean will protect the paint and extend the longevity of your car. It also feels good to start off spring and summer with a clean, like-new vehicle! Make sure to deep clean your lights as well and replace the bulbs if necessary.

Check Your Tires

Winter can be rough on tires. Make sure all of your tires are in their recommended pressure range, which is usually between 30-32 psi. Also take time to check your treads. Poor treads cause tires to be unable to grip the road the way they're designed to, compromising your vehicle's handling in less than optimal conditions. Grab a penny and do the penny test by placing a penny in several of the tread grooves across the tire. If you always see the top of Lincoln's head, your treads are shallow and your tires need to be replaced. If you have winter tires, make sure to replace them with all-season tires for spring through fall.

Check Your Wiper Blades

Wiper blades certainly take a beating in Utah winters. Between rain, hale, snow, ice, and slushy salt mixtures, wipers can quickly become worn down, leaving you with a dirty windshield that is both an eye sore and a safety hazard. If you notice any tearing or cracking in your wiper blades, it's a good idea to replace them with new ones. Beam-type or rubber-clad wiper blades can help prevent ice build-up. Always remember to also carry an ice scraper and snow brush, especially considering how back and forth Utah's spring weather forecast can be!

Check Your Fluids

It is critical to monitor and regularly inspect your vehicle's fluid levels and conditions, especially at the beginning of each new season. Check the following: engine oil, transmission fluid, brake fluid, antifreeze/coolant, and windshield washer fluid. If levels are low, top them off. Flush and replace fluids as recommended by your owner's manual. An overheated engine is common in Utah summers, which is just right around the corner. Make sure your coolant isn't too old and is filled to the proper line.

Change Your Oil

Changing both your oil and your oil filter at the intervals recommended by your vehicle's manufacturer is essential for vehicle performance, safety, and longevity. If you use your vehicle for frequent short trips, heavy hauling, or trailer towing, you will likely need more frequent oil changes to keep your vehicle in good condition.

Have Your Car Battery and Brakes Tested

Winter is rough on brakes and batteries, too! Have your brakes inspected to make sure your vehicle can stop promptly as needed. Any squeaking or grinding sounds are a tell-tale sign that your brake system needs some attention. Ignoring this can be very dangerous.

Check Your A/C

One of the worst moments in life is enjoying the first day of spring when the weather is warm enough to justify turning on the A/C - only to feel nothing but hot air. To avoid this sad disappointing moment, turn on your A/C today and run the fan on all speeds. Does the air feel cold? Is the fan blowing strong? Are there any funny sounds or smells? If you notice anything amiss, call Main Street Mechanic to have the cooling system examined before issues become worse and more expensive down the road.

Prepare Your Emergency Kit

With many months of adventures ahead, including some that are likely to be off-grid and/or spontaneously thrown together last minute, it's a great idea to always have an emergency kit on hand. This includes gloves, blankets, boots, flares, a small shovel, toilet paper, tire chains, and plenty of food and water. Make sure you also have your insurance on hand and the phone numbers of all relevant service providers, such as your car mechanic, AAA, and local towing companies.

Replace Your Filters

While we certainly are glad to see spring arrive, this season is also known for stirring up pollen and allergies. Keep your car interior clean with a fresh cabin filter, which most manufacturers recommend be replaced every 30,000 miles. Just like you need clean air to breathe, so does your car's engine. Make sure to check the engine filter and replace it if needed.

Have Your Vehicle Inspected By Professionals

Want to skip all the hassle and have you vehicle inspected by professionals? Bring your car into Main Street Mechanic in American Fork! We are currently offering a $19.99 Spring Inspection special. We'll do an in-depth examination of all the essentials and ensure your vehicle is road-ready. Having your vehicle inspected by professional mechanics is quick, easy, affordable, AND ensures that nothing is missed. We'll let you know what work needs to be done and what to prioritize if you have a limited budget.
As your Main Street Mechanic in American Fork, we'll help you keep your vehicle in top condition for all the adventures ahead.
BONUS – BG LIFETIME PROTECTION! Here at Main Street Mechanic, we exclusively use BG Products for all fluid changes.
BG is the leading manufacturer and supplier of automotive fuel and oil conditioners, specialty chemicals, and greases. With their Lifetime Protection Plan, if you get your car serviced with their products at regular intervals, they will automatically cover the repairs of major systems up to over $6,000. When you service your vehicle at Main Street Mechanic in American Fork, you will automatically be added to the BG Lifetime Protection plan – for free! Call or stop by to get started today.